The University adopted the University of Toronto Budget Model in 2007–08. The model has three basic objectives:
to provide a high degree of transparency, enabling all levels of university administration and governance to have a clear understanding of university revenues and expenses;
to introduce broadly-based incentives to strengthen the financial health of the university by increasing revenues and reducing expenses; and
to encourage a higher level of engagement of all senior levels of administration in budget planning for academic divisions and in recommending priorities and budgetary allocations for shared infrastructure.
The model introduced a methodology for attributing revenues and the costs of shared infrastructure to all divisions. A major portion of the expense budget allocated to an academic division is its net revenue, which is equal to its share of the University's gross revenue less its share of expenses, including its contribution to centrally administered student aid programs. A division's net revenue includes revenues from its programs, student enrolments, advancement activities through the endowment payout, and research activities through funding from indirect costs of research. Divisions benefit as their activities increase revenue and when, in cooperation with shared service units, they are able to make more efficient use of shared resources.
The remainder of a division's budget is an allocation from the University Fund. This is an entirely non-formulaic allocation, intended to provide funding in accordance with the University's academic values and priorities. It ensures that the total budget of a division is determined by the University's own priorities rather than by those of external entities. It also enables the University to recognize differences in the cost of delivery of various programs.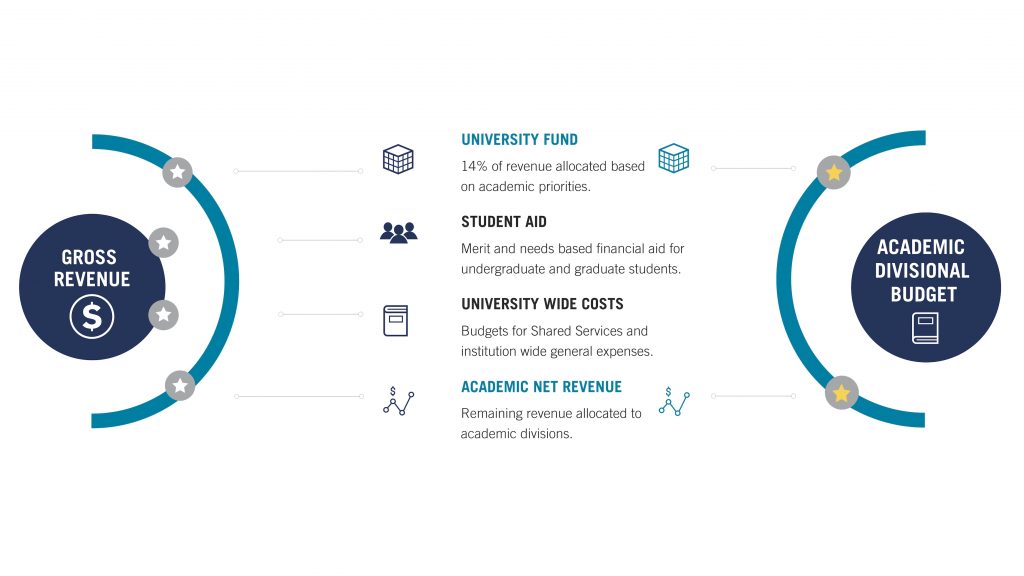 The process of attributing revenues and costs to campuses and divisions has been designed to minimize administrative overhead. For example, no transaction accounting is used to attribute the cost of a particular service. Instead, revenues and costs are attributed using readily available and verifiable parameters that provide a reasonable basis for the distribution of revenue or a suitable measure of the extent to which a division has access to a particular resource or service. These measures are referred to as revenue drivers and cost drivers, respectively. They include such parameters as number of students, number of faculty, usable space area occupied, etc.